About the Journal
Jurnal Manajemen Universitas Bung Hatta with ISSN 2615-5370 (Online) and ISSN 1907-6576 (Print) is a peer-review journal published by the Department of Management, Faculty of Economics and Business, Universitas Bung Hatta twice a year. The journal focuses on publishing management research results everywhere, issues published by Jurnal Manajemen Universitas Bung Hatta covering human resources management, marketing management, financial management, strategic management, entrepreneurship, and other management and business applications. Jurnal Manajemen Universitas Bung Hatta is accredited SINTA 3 by Kemdikbud the Republic of Indonesia Number: 164/E/KPT/2021. Starting in July 2022, all submitted manuscripts should use English.
Jurnal Manajemen Universitas Bung Hatta is open to all readers. Jurnal Manajemen Universitas Bung Hatta is positioned as a forum for academics and practitioners to share scientific information about research results. As in progress, we have made continuous improvements for the journal, New Author Guidelines and New Article Template have been provided to help the Author to prepare a proper manuscript.
Current Issue
Vol. 17 No. 1 (2022): Jurnal Manajemen Universitas Bung Hatta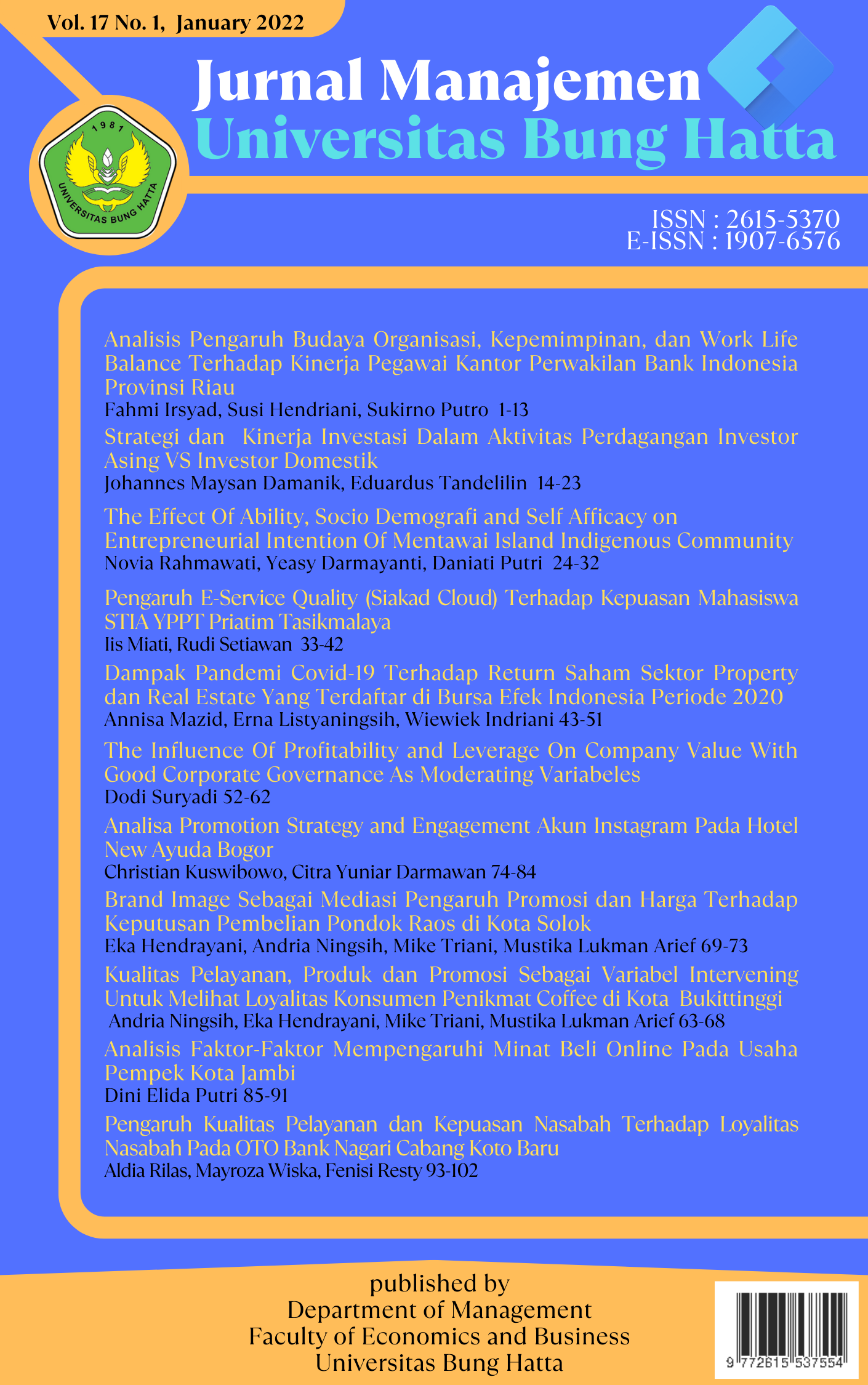 This volume consists of 11 articles with 24 authors from various Universities in Indonesia. There are Universitas Universitas Riau, Universitas Sarjanawiyata Tamansiswa, Politeknik APP Jakarta, Universitas Negeri Padang, Universitas Putra Indonesia "YPTK" Padang, Institut Teknologi dan Bisnis Haji Agus Salim Bukittinggi, STIA YPPT Priatim Tasikmalaya, Universitas Bung Hatta, Universitas Malahayati, and Universitas Dharmas Indonesia.  Scope of study in the field of Management such as Marketing Management, Financial Management, Human Resource Management, Strategic Management and Entrepreneurship.
View All Issues